We have entered the visual media era; a Solid Strategy is Vital
Instagram, Flickr, G+, Facebook, Pinterest, Twitpic… Just think of all the places where visuals are the most important thing.
Hipstamatic is my current favorite app, but I have two dozen different cameras apps on my iPhone. And I use them all. Kids are using Photoshop and Lightroom and a ton of online graphics tools. Businesses NEED graphics to sell their services and product.
Blog posts without graphics do not pull nearly as well as those that have an accompanying image. Businesses are using Instagram, Facebook and Pinterest more than ever, and they are making them work.
Websites aren't just online catalogs, or a digital listing for goods and services… they reflect your brand. And that brand is all important in this age of blandness, wannabees  and commoditization.
I am a visual media strategist. I look at all things visual and I work with you to develop the strategy that will help you find clients and convert them to customers. After 40+ years as a photographer, designer and Creative Director, I know how visuals work.
Let's put them to work for you.
Social Media Visual Strategy
Visual Marketing and Social Media Engagement
I will work with you to develop a full on Visual Marketing and Social Media strategy. This includes teaching you what a "Tweet"
is and why you should be all giddy when someone "LIKES" you – or not. We will Instagram and Pinterest the days away
in a social media fog of pure joy and…
Oh HELL no.
That right there is an incredible waste of time… and time IS valuable.
Social Media CAN work for you, but you must know which ones will work best for your unique offering. Not everyone
needs a Facebook or a Pinterest… or any social media at all for that matter.
But if we can use what is given to us in a way that makes it work, well… Dayam… that is when it all comes together!
It is a set of tools that are used to help define you to an audience that you may never have even though about, in ways
that you have never considered.
So we learn about your business. What do YOU want to do? Where your level of engagement is, and are you committed
to the time and effort that good Social Media marketing calls for? And it is OK if you aren't. We can work to help you
identify people in your organization that are more 'in tune' with the whole shebang.
Then we build a visual strategy, and a plan and we work that strategy and plan to make sure it will indeed be something we
want to stay engaged with. Look – anyone who tells you that you gotta do all this stuff is flat out full of it. There are
some social media stuff you will not need, and some you may actually hate. S'all good.
There are no rules. Not a single one… and run like hell from those who tell you there are.
Then we stick with you to develop content, research areas that can be leveraged to expand your reach. We will
take care of the tweeting and status updates and instagramming for you while you get up to speed.
These are limited on my part and start at $15,000 per 6 month engagement. After 6 months, you can renew
for an additional 6 months at the same rate, or continue on (we like that too…) without us. If you need us to pop
back in every now and then to see what you are up to, that's great. Happy to.
Web Design

I design websites – well, actually I design incredible online powerhouses that help you kick… stuff! I make ads that get attention, and I develop marketing messages that make customers fall to the ground and beg you, literally BEG YOU to take their money. I even do advertising that makes people stop in their tracks ready to buy, buy, buy.
I also never exaggerate. Mostly.
Ahem.
Well, I do build sites that help you convert lookers to buyers, and I'm pretty damn good at advertising and photography, so yeah, I can help you start your business or make your business grow. It is what I love to do.
Free air is good. Water is free – unless it is from France or some spring in the wilds of Oregon, then it costs more than champagne. Free Websites are unprofessional and worse than no website at all.

That's what free says.
I am not free. I charge money for what I do, just as I expect you will charge money for what you do. I am not cheap, although I do believe you get a terrific deal and quite a strong value for what you spend with me.
I work with YOU.
You have me… I'm not free, not cheap, and not ridiculously expensive.
Just right… Like mama bear's chair, man.
So if you need a visual strategy, marketing materials, a shiny new website and a spiffy blog to go along with it, a "to die for" ad or brochure, then we should talk. Seriously… let's just talk.
Take a look at my portfolio – it's been called the "Vault of Genius* – then let's get together and do some business.
(*Actually, nobody but my mom ever called it that, but it would be significantly cool if they did.)
Graphic and Print Design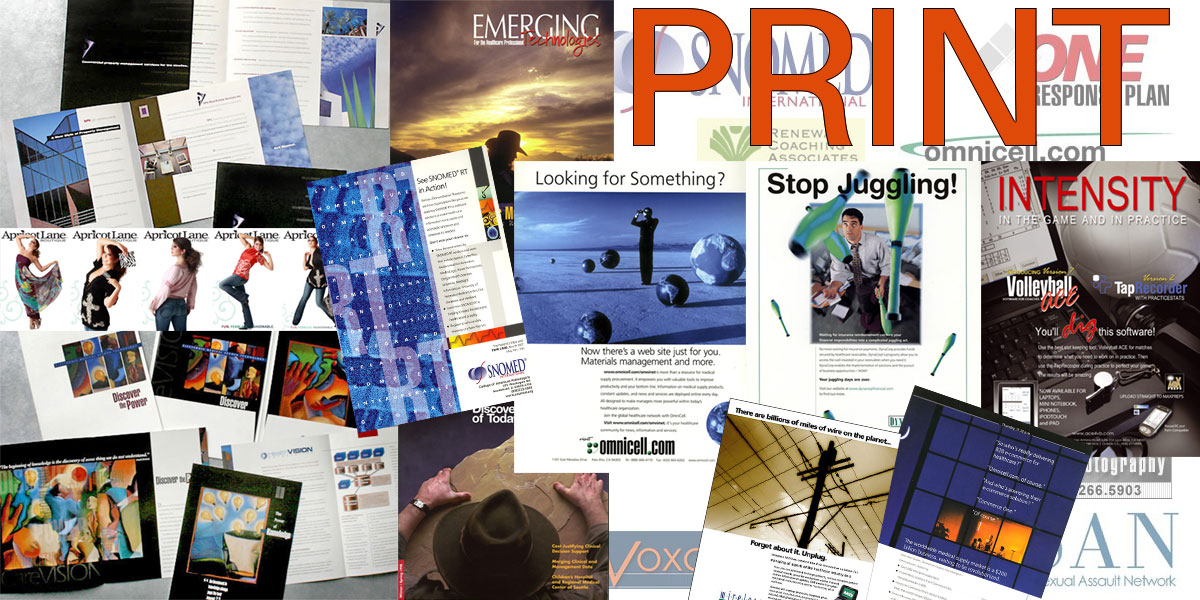 My experience in graphic and print design is quite extensive, having developed full collateral materials for major corporations, and designed three different publications.
I am currently booked through the end of this year and am only taking on new projects if they dovetail into my Web Design and Mentoring Clients.
However, if you have something you think I should take a look at, please contact me. I will always have time for something cool, fun, edgy and awesome.
Need Something Else...?
So you didn't see what you need in the above menu… well that's great! You are seeking something a bit different, right?
And yep, we do that too. From Website evaluations to business ideas, copywriting, marketing, ad creation and all sorts of creative, to simply working with you to consider all the stuff that can go wrong in an online business, it's all good. Being prepared trumps being funded any day.
If you didn't see what you want, let me know and we can work out an engagement that makes sense to you. That's the easy part. The doing part is the harder part, but not as hard as not doing it correctly… Yes, that makes sense even the second time you read it.
Full Branding Engagement

I work with Robin Bramman, a Strategic Brand Specialist for full branding engagements.
Robin's work ranges from personal branding for entrepreneurs to substantial branding programs for large, international corporations.
Meet Robin at her site and look into the brand strategy tools she uses to position you where you NEED to be, while keeping you true to your ultimate brand.